These books are limited to 100 copies and are released mostly just to my Facebook friends.  They are not commercial books and include experiments and subject matter which often would not be appropriate for a wide audience.  They have been printed and laid out by me and are available through Lulu and once they are gone.
HIDDEN PATH BEHIND INITIATION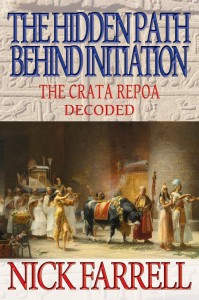 In the late 18th century two prominent German esoteric masons wrote a fantasy about an Ancient Egyptian Magical Order called the Crata Repoa. It was influential in the development of many masonic and esoteric groups through-out the 18th and 19th centuries and its influence can be indirectly seen on modern groups such as the Order of the Golden Dawn, the Ordo Templi Orientis and even modern Wicca. As the knowledge of Egyptian history developed, Crata has become disregarded by those who had taken it literally and it has been largely ignored. What Nick Farrell sets out in this book is that Crata Ropea was an example of an esoteric allegory written by two adepts to explain the path of initiation and goal posts to other esoteric experts. . Once you have broken the symbolic code behind the book you can see advice, guidance and direction for various points of your esoteric life.
THE MAGICAL MACHINE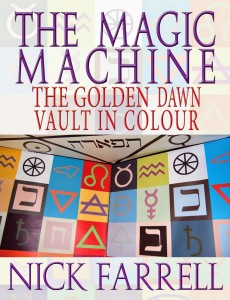 The Order of the Golden Dawn had a magical machine which used colour to create a magical effect within its Adepts. The construction of a vault was the key to understanding the Golden Dawn system of magic. However, it remained a closely guarded secret and before the development of the computer creating one was a work of art which required a deep knowledge of the colour magic of the Golden Dawn. Few vaults have been built in the modern era and, thanks to the secrecy surrounding the original magical order, many have been constructed on using colours or ideas which have not been right. In Magic Machine, the Chief Adept of the Magical Order of the Aurora Aurea Nick Farrell has provided full colour drawings of what a vault should look like and offers readers of what will be for many a first glimpse of the Golden Dawn's magical machine.
THE SHEM GRIMOIRE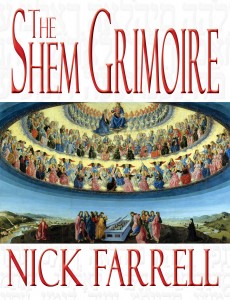 This is a handbook of Modern Angel Magic written using the Order of the Golden Dawn magic system alongside more mystical traditions of Jewish Kabbalah and is designed to attune you to the 72 Angels of the Name. It is the personal grimoire of the Chief Adept of the Magical Order of the Aurora Aurea, Nick Farrell and is based on his own researches into this magical system over many years. There is little theory here and the material is based on what Farrell found to work.
Total Page Visits: 1577 - Today Page Visits: 12